Zentangle Patterns for Kids
Nothing says "I love you" like a handmade gift or craft. This Zentangle® heart activity makes a great gift for family and friends all year long. Even if your kids/students are new to the Zentangle art form, they will love this easy heart craft. 
As an art teacher and CZT, I've incorporated many simple Zentangles into art projects in the classroom and at home with my daughters. One of the most beautiful characteristics of Zentangle patterns is that they do not have to be complicated to create stunning results. 
If you're unfamiliar with the incredible benefits of "tangling" keep reading for a brief overview.
This post may contain affiliate links and I may earn a small commission when you click on the links at no additional cost to you. As an Amazon Affiliate, I earn from qualifying purchases. You can read my full disclaimer here.
What is a Zentangle Pattern?
The word zentangle originates from the word "zen" meaning calm, and "tangle" meaning a collection of overlapping patterns. Zentangles not only promote concentration and creativity, but they are also known to increase personal well-being. This drawing method is based on a theory created by Rick Roberts and Maria Thomas, which combines meditation and art. Zentangles are beautiful patterns that both children and adults can learn and produce.
This method is being taught all around the world and is more than just a hobby. It's being taught in schools, both primary, high school and college. Hospitals are using this method to aid people in recovering from physical and psychiatric health issues.
To learn more about the Zentangle Method, or more incredible benefits of "tangling", check out these other Zentangle Blog posts:
Zentangles are created through the constant repetition of lines. People of all ages and skills can create beautiful images by drawing these structured patterns. Zentangles consist of a combination of five basic strokes, that are found in every pattern:
 dot

 circle

 curve

 line

 s-shaped line
These simple shapes are the "Elemental Strokes" in all Zentangle art. 
Drawing Zentangles is easy to learn and can be practiced by almost anyone. Your children can enrich their "tangling" with the help of these awesome  Zentangle books made for kids!
Step 1 – Prepare Your Materials
Get all of your supplies ready to create something beautiful.
Step 3 – Divide your heart into different sections
Draw intersecting lines inside of each heart. Try to incorporate a variety of straight and curved lines.
Step 4 – Draw Zentangles
Once you've divided your hearts into different sections, you can start filling in each section with Zetangles. Please feel free to use my easy Zentangle patterns PDF free download or you can have fun using your own patterns too. Remember that there are no mistakes when you're drawing Zentanlges 🙂 Every line that you draw has a beautiful purpose!
Step 5 – Paint your background
Paint your background using watercolor paint or any media of your choice. I really liked the soft look of the watercolor paint against the dark lines of the Zentangles. We chose cool colors for our first heart craft below and decided to create a rainbow effect using several colors for our second heart craft. 

Your students can choose a color harmony such as warm, cool, or complimentary or they can paint the background based on how they're feeling using our feelings chart. Or their color choices can be completely random! Have fun with it 🙂
You are going to love these completed Zentangle hearts. You can even experiment with different patterns and backgrounds! Encourage your kids/students to give their completed hearts to a loved one or gift it to someone who might need a reminder that they are loved and cared for. Afterall, sharing is caring!
Related: 10 Kindness Crafts
If you try this Zentangle heart craft with your kids or students, please let me know! I'd love to add your creations to our gallery, so upload your photos or send them directly to me at: [email protected] Thank you!
Looking for even more ways to spread kindness? You might be interested in our Kindness Begins with Me digital coloring book series. Click HERE or on the image below to learn more.
If you love zentangles as much as we do, you're going to love our zentangle pyramid activity. Click HERE to check it out or click on the images below.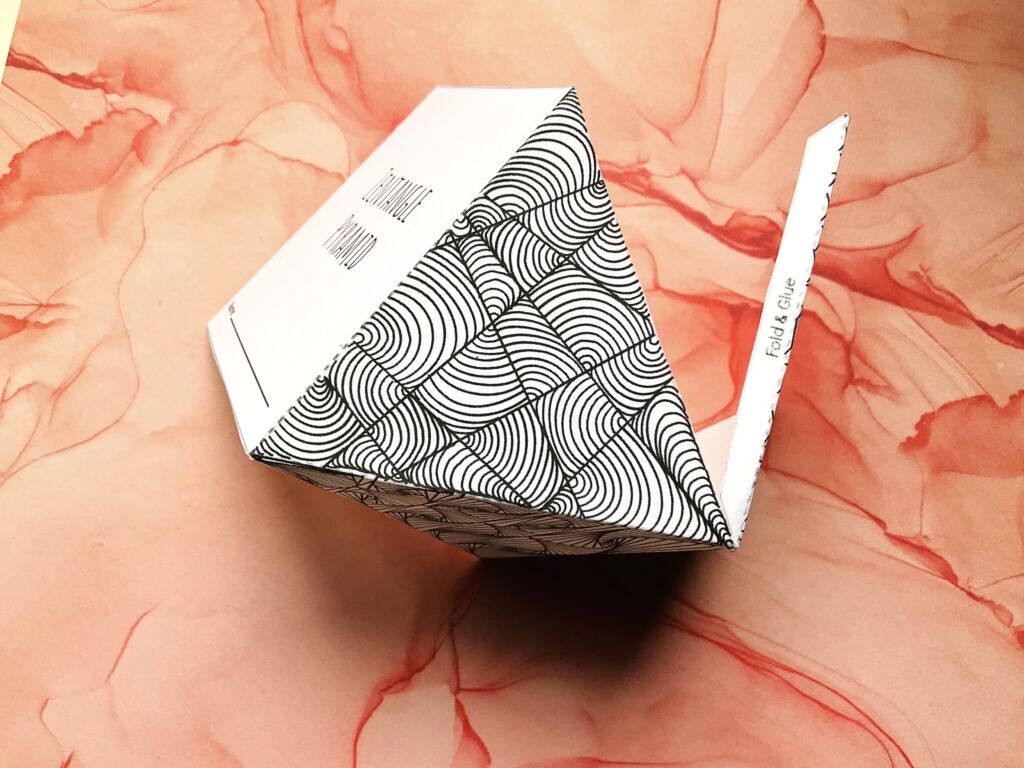 If you're looking for more activities designed to encourage mindfulness and spark creativity, check out my printable resources below or visit my shop!
Don't forget to download our free 15 page Mindfulness coloring book to help add a few mindful moments to your child's day. Just click here or the image below!