Cute Easy Doodles to Draw
Are you ready to draw some of the cutest doodles you've ever seen? 
I've compiled over 100 of our favorite step-by-step bullet journal doodles for you to use in your bullet journals, art journals or anywhere really. These doodles are suitable for children and adults! 
A common misconception when it comes to drawing is that you need to have a ridiculous amount of artistic talent to create decent results. However, that simply isn't required when doodling. 
With practice, anyone can learn how to draw these cute doodles below, especially since each one is broken down into simple steps.
The art form of doodling was once regarded as a waste of time but recent studies have shown that doodling has a purpose and several benefits including, reducing stress, strengthening memory capacity and improving our ability to focus. To learn more about the amazing benefits of doodling, check out these blog posts: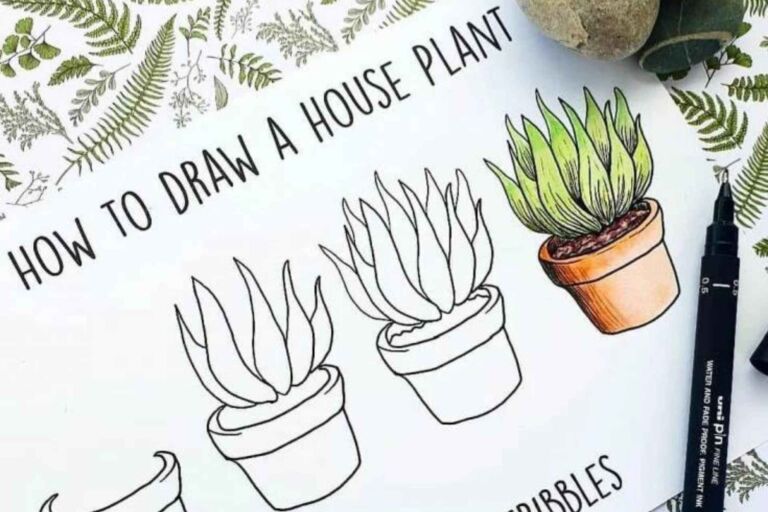 This post may contain affiliate links and I may earn a small commission when you click on the links at no additional cost to you. As an Amazon Affiliate, I earn from qualifying purchases. You can read my full disclaimer here.
Our new Zentangle course is here!
Are you trying to find ways to incorporate self-care and creativity into your life? Would you like to introduce the Zentangle Method to your children or students but you're not sure how?
If you answered yes to any of these questions then you're going to love our new course. If you haven't had a chance yet to watch the course overview video, check it out below! 
What Materials Do I Need for Doodling?
You can create beautiful doodles with just a pencil and a piece of paper. However, if you'd like to take your bullet journals and sketchbooks to another level, the following materials will help you create spectacular doodles. Here are a few supplies that we love!
This awesome journal is available with dotted pages, blank pages, ruled or squared pages. It's also available in hardcover in a variety of beautiful colors.
Posca Fine Sparkling Pens
 We love these White Gelly Roll Pens because of their brightness! These are great for adding tiny highlights and details to your easy doodles.
Gelly Roll Moonlight Pens
This pack of Micron Pens includes several sizes, which make them perfect for coloring larger sections or adding tiny details to your doodles.
Prismacolor Pencil crayons
Ultra Fine Tip Sharpie Markers
The uses for washi tape are endless! We like to use them around our doodle frames or to personalize our journals.
We love these stencils! They are great for adding details like ribbons, banners etc. They're also perfect if you're short on time!
8 Ways to Enhance Your Doodles
mashaplans.com has some really great tips for enhancing your doodles. I've written the steps below and included a picture demonstrating each tip.
Use a thick outline to add variety.

Add expression to make them have more character.

Use a light gray pen to add shadows.

Use tiny dots or stippling to add dimension.

Use lines and dots to add more interest and highlight the borders.

Use embellishments to add more fun and character

Use one color (or fill out part in black to add contrast).

Use lines to color the shadows.
Cute Doodles to Draw - Step by Step
There are over 100+ doodles to draw below, so I've divided the doodle tutorials into 7 different sections: flowers, animals, seasons, plants, ocean doodles, food and design elements. These doodles are perfect to draw when you're bored, when you're working in your art or bullet journals, or when you need a few mindful minutes. Happy doodling!
How to Draw a Doodle Rose
How to Draw a Doodle Daisy
How to Draw a Doodle Peony
How to Doodle a Variety of Flowers
How to Doodle Cherry Blossoms
Photo Credit: @lianastudiess
How to Draw a hummingbird
How to Draw Cute Forest Animals
How to Draw Cute Baby Animals
How to Draw Seasonal Doodles
How to Draw Summer Doodles
How to Draw Sun and Sand Doodles
How to Doodle Spring Rainclouds
How to Draw Spring Doodles
How to Draw a House Plant
How to Draw a Cactus 4 Ways
How to Draw Plant Doodles
How to Doodle Dandelion Puffs
How to Draw Ocean Doodles
How to Draw Cute Ocean Doodles
How to Draw Cute Fish Doodles
How to Draw Ice Cream and Popsicles
How to Draw a Summer Drink
How to Draw Warm Winter Drinks
How to Draw Notebooks and Journals
We hope you love drawing these cute doodles! If you're interested in more doodle art or drawing tutorials, check out these other blog posts:
If you're looking for more activities designed to encourage mindfulness and spark creativity, check out my printable resources below or visit my shop!
If you try these doodles with your kids or students, please let me know! I'd love to add your creations to our gallery, so upload your photos or send them directly to me at: [email protected] Thank you!
Don't forget to download our free 15 page Mindfulness coloring book to help add a few mindful moments to your child's day. Just click here or the image below!