This post may contain affiliate links and I may earn a small commission when you click on the links at no additional cost to you. As an Amazon Affiliate, I earn from qualifying purchases. You can read my full disclaimer here.
I've been teaching for over 12 years and the benefits of mindfulness in the classroom are becoming more prevalent as I progress through my career. As well, there is a growing body of scientific research that discusses the positive effects of mindfulness colouring on the mental health and well being of children.
I've also personally witnessed the impact of having a mindful practice in the lives of my own children. I started practicing mindfulness with my daughters 2 years ago and we've recently added mindful colouring to our routine. At first, there was some resistance to being mindful. My girls thought it was boring and Chloe was confused about how to focus on the present moment. But over time and with consistency, they've grown to enjoy it. 
Related: Drawing a Mandala (Free Stencils) – Mindfulness Activity
When My daughter Chanel is freaking out about something, I remind her to pause, take a breath and focus on her senses; what she is seeing; what she is smelling; what she is hearing; what she is feeling, in her heart. This allows for a perspective shift, so she is able to respond to stressful situations in a more productive way. But this takes practice!
The reality is that our children are encountering many stressors on a consistent basis, so having a mindfulness practice is crucial to their mental well-being. After my kids spend a few minutes mindfully colouring, they often describe feeling emotionally lighter and calmer. Chanel sometimes says, "the clouds disappeared" or she says, "I can think now." Hearing these words from my anxious child is an incredible feeling. I've added mindful practices, such as mindful colouring to their coping toolkit, because it works! I'm confident that you, your children or students will also benefit enormously.
Mindfulness is a buzzword that has become increasingly popular in schools, and even corporate settings.  It is a technique that Western Psychology has borrowed from the buddhist tradition of mindful meditation. The Art of mindfulness resides in the ability to bring your attention to what is happening in the present moment; being aware of both your internal experiences as well as what you experience in the world around you. 
Simple right? It's actually more challenging than it sounds. Yet, I assure you that the benefits for your children are well worth the effort. Many psychological studies have shown that there are measurable health benefits when children practice mindfulness on a regular basis. These benefits include improving their memory, attention skills, increasing compassion, and managing anxiety and depression. 
Here are a few more blog posts related to mindfulness:
I've mentioned a few overall benefits of practicing mindfulness, but I wanted to share with you some specific benefits of mindfulness colouring.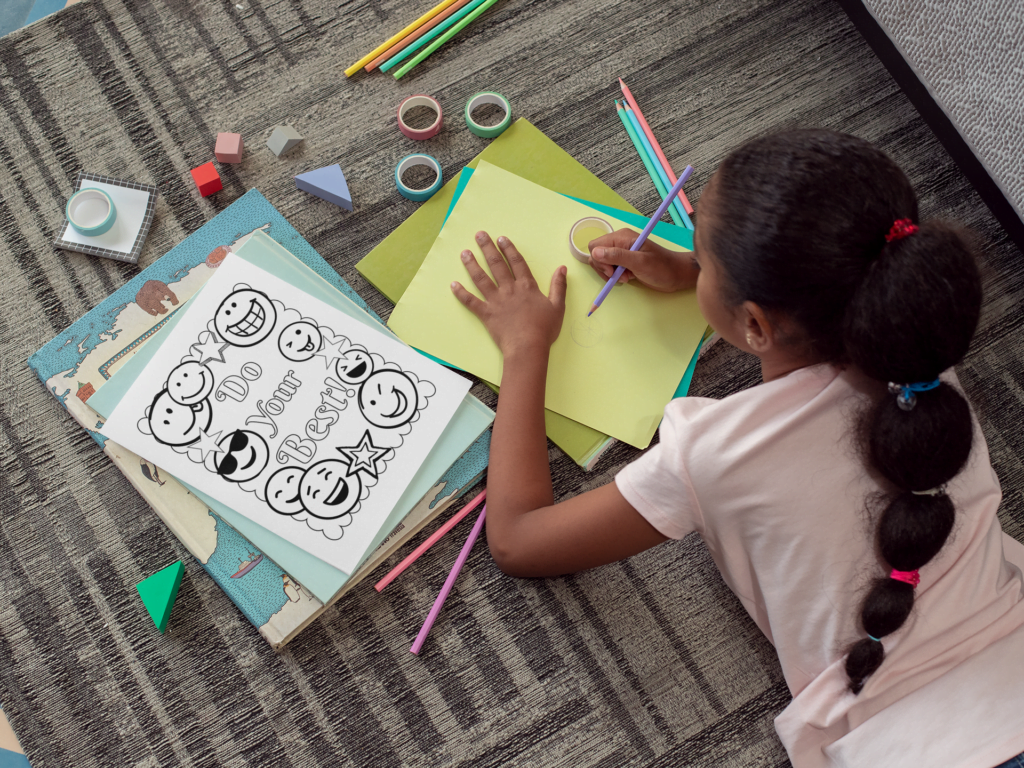 What are the Benefits of Mindfulness Colouring?
I've briefly mentioned a few advantages of mindful coloring above but here are 7 additional evidence based benefits.
reduces anxiety levels because it calms the amygdala – the fear centre of your brain

can be used as a coping mechanism when dealing with life's challenges –

mindful coloring overrides stressful images

unplugging from technology promotes creativity, which can increase our ability to creatively problem-solve

it encourages patience

it can improve attentiveness and reduce impulsivity

fosters a sense of compassion

improves fine-motor skills
How do you get your Kids to Mindfully Colour?
The process of mindfully colouring can be a simple as finding a quiet space and colouring, but if you'd like to increase the benefits of this practice, you might encourage your child or student to do some of the following:
Try to avoid distractions. It will be easier for your child to focus on their colouring if they aren't surrounded  by noise and business. They can also use headphones with some quiet music to block out any background noise. 

Set aside at least 5 minutes of uninterrupted time for your child to work on their colouring page. Many will want to colour for longer but 5 minutes is a solid baseline for practicing mindfulness.

Before colouring, ask them to take a few deep breaths and make sure that they're sitting comfortably.

Have them select a design, with a positive statement, that resonates with them at that moment. If they are already working on a colouring page, they can continue to colour it in, but if they feel inspired to start a new one, you can allow them to do so. The page that they choose should speak to them in some way. The mindful colouring pages that I've created all have positive statements designed to give your young artist something to focus on when their mind starts to wander. 

As they start to colour, encourage them to focus their attention on their colouring page but remind them that it's okay if they get distracted.
How to Handle Distractions or a Busy Mind?
Mindfulness is the practice of becoming aware of our thoughts, emotions, and senses, not about clearing our minds.  It's about focusing on the present moment. As your child colours, encourage them to focus on what they are doing in the moment; the feel of the marker in their hand, the sound of it gliding across the paper, the lines on the page. If there are noises or distractions in the background, while they are colouring, ask them to notice the distractions, but maintain their focus on colouring. 
When distractions arise, and they will, it's important for your child to not react to them. The essence of mindfulness is being able to just be present in the moment. If they are distracted, they can GENTLY bring their attention back to the words on the colouring page, to the lines on the page, or to the rhythm of their breath.
Mindfulness colouring is non-judgemental. It is a beautiful form of self-expression and a healthy creative outlet, so there are no mistakes; there is no right or wrong. Just embrace the process. 
YouTube Video Tutorial - 3 Colouring Techniques
Here is our YouTube video that will show you 3 techniques that your children can use to complete their mindfulness colouring pages. 
Appropriate for Children Ages 4 and up
Prep Time: 5 minutes
Technique #1: Use a Feelings Chart
Materials:
Feelings chart (download your free feelings chart! I've included a black and white copy, so your child can match their feelings to their own unique colours).

Colouring page (we used ones from our new mindfulness colouring book but you can use any colouring page)

Ohuhu art markers (the ones we'll be using today have a fine tip and a brush tip).

You can also use a surface protector if you're using permanent markers to prevent damage to the surface that you're working on (optional)
There is a huge selection of Ohuhu art markers available! The ones we'll be using today are double tipped alcohol sketch markers, which are perfect for kids. Our markers have the fine and brush tip. The kit comes with 72 vibrant colours plus an alcohol marker blender. These have been our go-to markers recently because we love the fact that the ink is alcohol based, which ensures that all of our projects will be smudge free, since the ink dries instantly.
Before your young artist starts to colour, have them take a moment to reflect on how they are feeling in that moment. Then, using the feelings chart, they can match their feelings to a colour and use those colours to complete their coloring page. Their completed colouring page will also become a visual representation of their emotions, in that moment. 
Technique #2: Add Gel Pens
Materials: 
Completed colouring page

Gelly Roll Moonlight gel pens (silver and white)
We'll be using a colouring page that my 10 year old daughter completed to demonstrate this next technique. Chanel chose to use any color that she felt drawn to to complete her colouring page but to take it to another level, she added some details using a gel pen. We used the white and glitter gelly roll gel pens to add some simple lines and dots to her colouring page.
Materials:
Colouring page

Gold paint/gold gel pen
We like to call this next effect gilding. Using a colouring page of their choice, your children can outline the letters or any details on the page with gold paint. A gold gelly roll pen is also very effective.
Chanel used our "Dream, Believe and Achieve" coloring page from our book and outlined the phrase in gold paint to create a gilded effect. 
Your children can then colour in the rest of the page using whatever media they choose, or outline the entire page in gold.
Happy colouring!
Please reach out to me if you have any questions or if you'd like more guidance with your mindful colouring. I can always be reached at: [email protected]
You can also send me pictures of your colouring pages or mindful artwork! I'd love to add your creations to our gallery, so upload your photos or send them directly to me at: [email protected]. Thank you!
.