This post is full of easy doodles that you and your kids are going to love! 
I'm sure most of us are guilty of creating little markings and drawings in the margins of our notebooks during a meeting or while engaged in another activity. But did you know that creating these seemingly random and incomprehensible sketches are actually good for you? Doodling is amazing! Drawing these easy doodles below will show you just how amazing it can be.
Related: Cute Easy Doodles to Draw – Step by Step 
Related: Incredibly Cute Doodles
Related: 50+ Doodles Step by Step
Related: How to Draw a Simple Butterfly
The word doodle means 'to draw, sketch or scribble idly'. However, don't let the simplicity of this art form persuade you into believing that it's a waste of time. 
Several scientific studies suggest that doodling is an excellent activity for improving creativity, strengthening memory, and helping both kids and adults relax.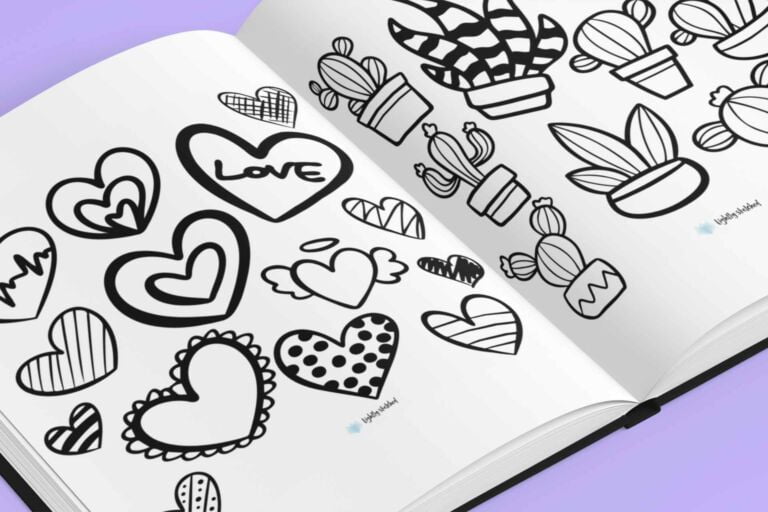 This post may contain affiliate links and I may earn a small commission when you click on the links at no additional cost to you. As an Amazon Affiliate, I earn from qualifying purchases. You can read my full disclaimer here.
3 Incredible Benefits of Doodling
There are numerous benefits of doodling! Here are a few of our favorites:
Doodling Creates Mindfulness 

Doodling can provide us with a few mindful moments throughout the day. While it is often done simultaneously to other activities, such as learning in class or while talking on the phone, doodling creates an opportunity to slow down and be present in the moment. As you are doodling, take an opportunity to focus on the individual lines you draw, the feel of the pen in your hand, the feel of the paper. Take a few deep breaths and ease into the process.

Doodling Relieves Stress 

The repetition and carefree motions involved in creating the doodles has been shown to suppress the body's fight-or-flight response. In fact, making art in general is a proven method for reducing cortisol levels, also known as the stress hormone.

To  learn more about the benefits of doodling and zentangles on the mental health of your children, check out my blog post on flextangles HERE. 

Doodling Can Improve Your Memory 

Are you forgetful? Try doodling regularly! This study by Time magazine suggests that doodling can be an effective memory aid. The article refers to a study that found that memory retention could be increased by simply doodling while listening to information orally.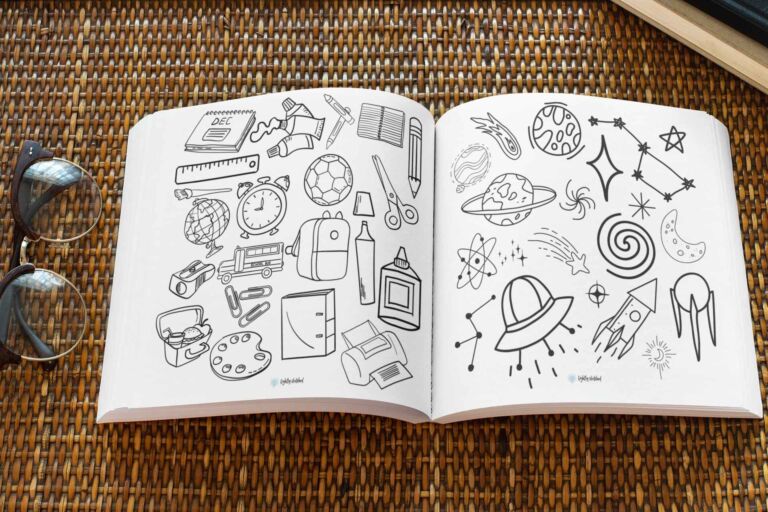 If you love to doodle as much as we do, don't forget to check out our How to Draw Cute and Easy Animals drawing guide. These adorable animal doodles are the perfect addition to your bullet journals. Volume 1 is available here.
What Materials Do I Need for Doodling?
Most doodles will only require a pencil and paper. However, if you'd like to take your bullet journals and sketchbooks to another level, the following materials will help you create spectacular doodles. Here are a few supplies that we love!
This awesome journal is available with dotted pages, blank pages, ruled or squared pages. It's also available in hardcover in a variety of beautiful colors.
Posca Fine Sparkling Pens
 We love these White Gelly Roll Pens because of their brightness! These are great for adding tiny highlights and details to your easy doodles.
Gelly Roll Moonlight Pens
This pack of Micron Pens includes several sizes, which make them perfect for coloring larger sections or adding tiny details to your doodles.
Prismacolor Pencil crayons
Ultra Fine Tip Sharpie Markers
The uses for washi tape are endless! We like to use them around our doodle frames or to personalize our journals.
We love these stencils! They are great for adding details like ribbons, banners etc. They're also perfect if you're short on time!
Doodling Tips for Beginners
The easy doodles in this post have a very simple design, which makes them perfect for enhancing your art journals, coloring pages, bullet journals or just the margins of your notebooks. If you or your children have a reluctance to draw and doodle because you don't think you'll be good at it, here are a few doodling tips for beginners that might ease some of the pressure.
1. Practice, Practice, Practice – have a designated art journal/doodle journal that you can practice in. The more you draw and practice the better you'll get.
2. Break the Doodle into Shapes – Many doodles can be broken down into simple shapes. If you're having difficulty drawing something, try identifying the larger shapes that it's composed of.
3. Embrace Mistakes – No practice is required for doodling! Just jump in, with both feet, and get started. Any slight mistakes that you make can be incorporated into your overall design. If perfection is your thing though, take a look and tip #4 🙂
4. Doodle on a Scrap Piece of Paper – If you're really concerned about making a mistake in your journal, try doodling on a scrap piece of paper first before drawing it in your journal.
5. Add Your Own Twist – don't be afraid to venture out! Develop your own style. You'll be pleasantly surprised by how amazing your doodles turn out when you let go and have fun.
Are you ready for these easy doodles? Grab your journal and favorite pen/pencil, find a comfy spot, take a few deep breaths and jump in! These doodles are great for kids and adults!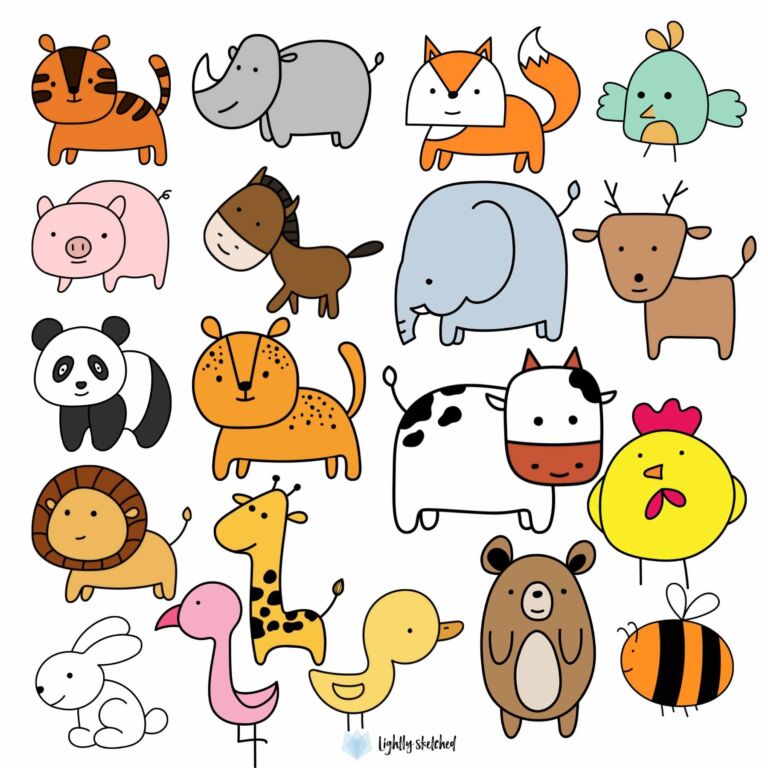 Doodle Ice Cream Cones and Popsicles
Doodle Banners and Borders
If you enjoyed these doodles, your going to love our Step by Step Cute Doodles to Draw blog post.
If you're interested in more doodle art or drawing tutorials, check out these other blog posts:
If you're looking for more activities designed to encourage mindfulness and spark creativity, check out my printable resources below or visit my shop!
If you try these doodles with your kids or students, please let me know! I'd love to add your creations to our gallery, so upload your photos or send them directly to me at: [email protected] Thank you!
Don't forget to download our free 15 page Mindfulness coloring book to help add a few mindful moments to your child's day. Just click here or the image below!