We can't wait to share this scribble art for kids tutorial with you! This activity can be used in the classroom to compliment your discussions on character traits or to introduce the topic of kindness.
What is Kindness? Angela C. Santomero, co creator of Daniel Tiger's Neighbourhood, defines it as "seeing with your heart". For very young children, this might mean sharing a toy with a friend or helping their teacher. To older kids, kindness might involve including a friend who feels left out or donating gently used items to charity. Regardless of what kindness looks like, it's behavior that we should encourage and cultivate, especially in our children. Kindness has the potential to change you, me, our children and impact our world on a large scale. 
This post may contain affiliate links and I may earn a small commission when you click on the links at no additional cost to you. As an Amazon Affiliate, I earn from qualifying purchases. You can read my full disclaimer here.
In honor of Mental Health Week, we are sharing the love and highlighting the benefits of kindness on our well-being.
3 Incredible Benefits of Kindness
There are numerous benefits of being kind! Here are a few of our favorites:
1. Kindness Changes Your Brain – Physiologically, kindness can positively change your brain. Being kind boosts serotonin and dopamine, which are neurotransmitters in the brain that give you feelings of satisfaction and well-being, and cause the pleasure/reward centers in your brain to light up. Endorphins, which are your body's natural pain killer, also can be released.
2. Kindness Produces Oxytocin – Witnessing acts of kindness produces oxytocin, occasionally referred to as the 'love hormone' which aids in lowering blood pressure and improving our overall heart-health. Oxytocin also increases our self-esteem and optimism, which is extremely helpful when we're feeling anxious or shy in social situations. 
3. Kindness Improves Overall Health – According to Christine Carter, Author of "Raising Happiness; In Pursuit of Joyful Kids and Happier Parents", participating in acts of kindness, such as volunteering or giving back to one's community is believed to protect your overall health. For  adults, helping others can protect against heart disease and can be just as beneficial to your overall health as exercising 4 times a week.
These are just a few of the many benefits you can experience by making kindness a priority. There are also many organizations that are making kindness an integral part of their foundation. Baseball for Dad is one of them! They make kindness a priority and use it as a tool to promote positive mental health. 
"Going Green" with Baseball for Dad
Our scribble art for kids activity is inspired by an organization called Baseball for Dad. They are dedicated to ending the stigma surrounding mental health and they are committed to spreading kindness on a global scale. Baseball for Dad and several other supporters of mental health awareness, including Lightly Sketched, are GOING GREEN May 2nd-8th to end the stigma surrounding mental health and to send a clear message to anyone struggling with mental health that, "they are not alone". 
What Does "Going Green" Look Like?
You can go green in several ways: 
Decorate with green accessories like ribbon, bows etc.

Use green lighting in your business, home etc.

Wear green!

Create artwork or signs with positive messages.
To learn more about how you can support Baseball for Dad or to get involved in "going green", visit their website HERE.
If you're looking for mindful coloring activities that promote kindness, check out our "Kindness Begins with Me" coloring book series. These coloring books have beautiful kindness quotes on playful backgrounds that can encourage children to have more compassion and empathy towards others.
The Beauty of Scribble Art
Scribbling develops fine motor skills, improves hand-eye coordination and provides an emotional release. The movements, while scribbling are generally larger, so your children can focus on the lines they create instead of drawing specific objects. Scribble drawings are a popular technique in art therapy that have proven to be a calming activity for both children and adults. One of the benefits of creating scribble art is that it can help us focus on the here and now. When we embrace the present moment, we are less likely to get caught up in worrying, ruminating, and overanalyzing.
Another benefit of scribbling, as opposed to other forms of drawing, is that it removes the anxiety that some children have about being able to draw. If they can draw a line, they can experience success with this activity.
If you're interested in more mindful art activities, check out these other art tutorials:
Here is our YouTube video that will teach you how to create this scribble art for kids. 
Appropriate for Children Ages 4 and up
Prep Time: 5 minutes
For today's scribble art for kids you'll need:
Watercolor paper/Cardstock or regular paper

A Pencil

Ohuhu acrylic paint (we used shades of green, light yellow, and white for mixing different shades)

Paint brushes

Paint tray

Water container for washing brushes
TIP #1 : This activity can also be completed in pencil crayon, crayon, marker or any medium of your choice. You can choose a material that your children will enjoy using.
TIP #2: If you're painting, I recommend that you use a thicker paper to avoid curling.
Step 1 – Prepare Your Materials
Get all of your supplies ready to create something beautiful.
Step 2 (Optional) – Write a Word or Statement
If you are adding words or a quote to your background, write it onto your paper in block/bubble letters.

Outline your letters in black sharpie.
Step 3 – Scribble!
Starting in one corner of your page, draw a loopy scribble all over your page.

After filling your page with scribbles, go back and check for spaces that seem too empty and add a few additional lines. We let our lines go right to the edge of our paper but you don't have to. You can have your students just fill up the middle of their page with loopy scribbles.
TIP: Encourage your young artist to make their scribble "loopy" instead of "scratchy" because it will be easier for them to color in spaces that are more open and less tight.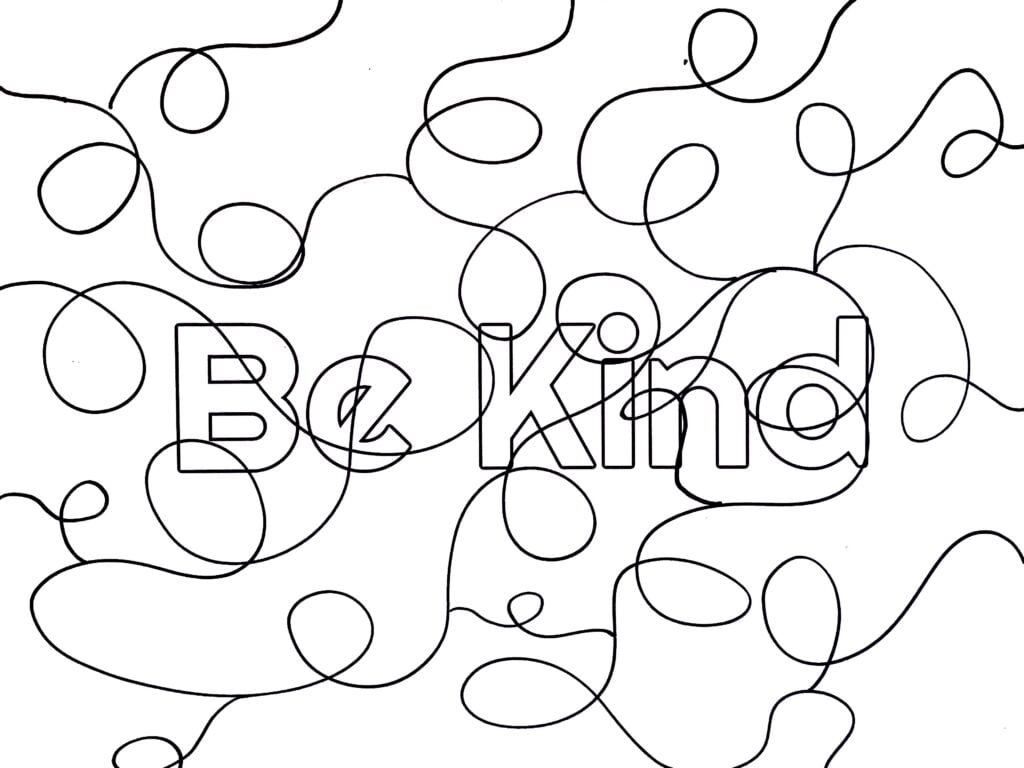 Step 4 – Paint or Color
Using a medium of your choice, paint or color the sections in the scribble you drew.

We tried to create balance in our painting by using a few art rules. We used the triangular composition rule by forming imaginary triangles across the page by painting certain shapes with the same color.

We also used the odd number composition rule, where we colored 3 or 5 shapes with the same color. Both of these techniques help to create a more balanced piece but if your child is inspired to paint or color randomly, I encourage that too.

We chose the color green in honor of GOING GREEN for mental health awareness but feel free to choose any color harmony of your choice. 
TIP: You can also use a feelings chart to help your students choose a feeling and a color to complete their artwork.
TIP: Your students might find it challenging to stay inside of the lines when painting smaller sections but don't worry, those areas can be touched up with a sharpie once it's dry.
Step 5 (Optional) – Touch up
Once the artwork is dry, your kids can use a sharpie marker to trace over any lines that might have been covered with paint.
Step 6 (Optional) – Give Your Artwork Away
Encourage your students/children to spread kindness by giving their artwork to someone special in their life or gifting it to another class in their school, or donating it to a seniors home in their community. These small acts of kindness can amount to something great!
Kindness means creating a spirit of love and compassion; it means being generous without expecting anything in return. Kindness is a quality of being; it's free, simple to do, and healthy.
Making the world a kinder place might seem like a daunting task for children  but creating an atmosphere of kindness in their homes, classrooms, and in their daily lives can help create a generation with the capability to do just that. Kindness begins with me and you! 
If you're looking for more activities designed to encourage mindfulness and spark creativity, check out my printable resources below or visit my shop!
If you try this scribble art tutorial with your kids or students, please let me know! I'd love to add your creations to our gallery, so upload your photos or send them directly to me at: [email protected] Thank you!
Don't forget to download our free 15 page Mindfulness coloring book to help add a few mindful moments to your child's day. Just click here or the image below!